Login Options for CrewGo App
Registered users have three options when logging in, This depends on the method that they've used during the registration. Log in through Google+, Facebook, or an e-mail account.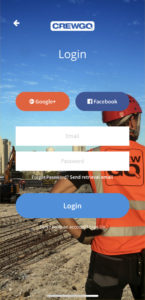 Tap the CrewGo app on your device.
Enter your e-mail address and password. (You can also tap Google+ or Facebook to retrieve your credentials from these sites if this is what you used during the registration process)
Tap Login once done.