How to setup payment method?
For new users, Payment Setup is the next landing page after logging in. Payment method can be setup using either a credit card or a PayPal account. This information can be modified anytime and an instruction will be provided later on the User's Guide.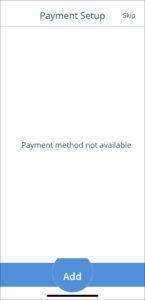 Tap Add on the Payment Setup page.
Choose either Credit Card or PayPal.
For Credit Card, populate all fields provided on Add Credit Card Page.
Tap Add Card once done.
For PayPal, enter your account's credentials on the login fields provided on PayPal's website. You will be redirected back to Payment Setup once you have logged in to your PayPal account.